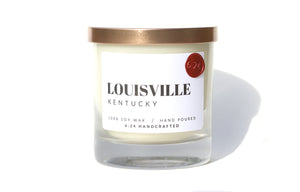 About this fragrance:
Louisville, Kentucky. Home of the Kentucky Derby, the Cards, KFC, and the Louisville Slugger. Not to mention this city will knock you out with one of the greatest boxers of all time, Muhammad Ali. This candle doesn't smell like sweat, but it smells of bourbon, mint, wood, and a hint of tobacco. Each of our candles have meaning behind the fragrance. This Louisville, KY candle has main notes of bourbon and mint to represent the famous Mint Julep that can be seen sipped on at the Kentucky Derby.

Candle Info:

10 oz. candle in a sleek reusable rocks glass with a Rose Gold lid

8 oz. soy wax hold

Notes: Bourbon, Mint, Woodsy notes, Tobacco

Enriched with 100% premium soy wax for a natural clean burn and special fragrances seen around the world

30-40 hour burn time
P.S. Don't see your city or town? Head over to the contact page, we will change that.