About Locals
Each local candle is crafted with a blend of fragrances that are meant to match the historical nature of a city. To add authenticity, each candle is hand stamped with a deep red wax seal from 6:24. When the red wax begins to soften, it's time to blow the candle out. For us, this stamp completes the beauty of fragrance blends.
Featured Locals Collection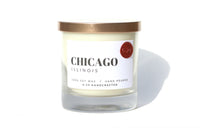 Chicago, Illinois Candle
Welcome to the Windy City. The fresh smell of popcorn fills the air alongside notes of vanilla and peppercorn. We elected not to go with a deep dish fragrance this time.
Shop Now