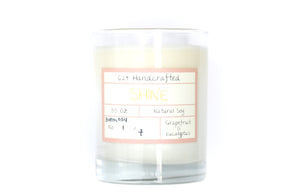 About this fragrance:
The carefully crafted Shine candle is designed for energy and focus. This 100% soy wax candle is a premium blend of grapefruit, lemon, and other citrus fragrances. Luxury candles take work, that's why this candle is individually handcrafted by 6:24 for you.
Candle Info:
13.25 oz. candle in a sleek old-fashioned jar
Enriched with 100% soy wax for a natural clean burn. Blended with special fragrances seen around the world
~40 hour burn time
P.S.
If you would like to see a different luxury candle, head over to the contact page and let us know. We enjoy crafting the perfect candle.