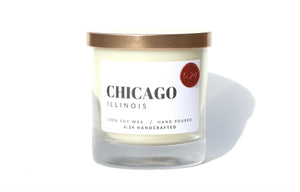 About this fragrance:

The Cubs, the Bears, the White Sox, the Blackhawks, the Bulls, the Fire, deep dish pizza, skyscrapers that fill the skyline, Garrett's popcorn, chocolate, shopping on Michigan Avenue, the list goes on. Most of all, this 'Windy City' candle represents a hub of many activities from culture to finance. This 10 oz. Chicago, Illinois candle represents the fresh smell of the stunning city. With notes of caramel, vanilla, patchouli, amber oak, and others. Each of our local candles are hand stamped with a nice deep red wax that creates a stunning design and authenticates our candles.

Candle Info:

10 oz. candle in a sleek reusable rocks glass with a Rose Gold lid

8 oz. soy wax hold

Notes: Caramel, vanilla, patchouli, amber oak.

Enriched with 100% premium soy wax for a natural clean burn and special fragrances seen around the world

30-40 hour burn time
P.S. Don't see your city or town? Head over to the contact page, we will change that.