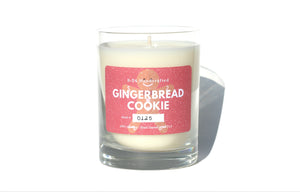 About this fragrance:
The natural crafted glass candle from 6:24 Handcrafted is a blend between warm and spicy fragrances that combined to smell like a gingerbread cookie candle. With notes of ginger, nutmeg, cinnamon, vanilla and a few others, this candle is sure to fill the room with Gingerbread Cookie.
Candle Info:
13.25 oz. candle in a sleek reusable Old Fashioned glass
10 oz. soy wax hold
Enriched with 100% premium soy wax for a natural clean burn and special fragrances seen around the world
40-60 hour burn time
P.S.
If you would like for us to create a different seasonal candle, head over to the contact page and let us know! We would love to get you the perfect candle.