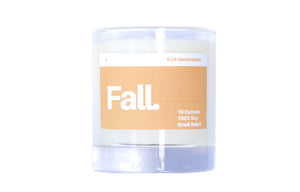 About this fragrance:
As we tested fragrances for our new Bergamot Woods candle, we couldn't help but get excited for fall. The new 6:24 Handcrafted Bergamot Woods candle features a blend of unique, worthy fragrances that represent the fall season. Let the warm cedar and bergamot take you on an adventure through fall. Our new 2019 Fall Collection features three different delicious scents and this is one of them.
Candle Info:
10 oz. candle in a sleek reusable Old Fashioned glass
Enriched with 100% premium soy wax for a natural clean burn and special fragrances seen around the world
30-40 hour burn time
P.S.
If you would like for us to create a different seasonal candle, head over to the contact page and let us know. We would love to get you the perfect candle.